EXCLUSIVELY OFFERING THE INDUSTRIES LEADING NORTH AMERICAN MANUFACTURERS
All body jewelry is not created equal & finding a studio that offers high quality jewelry is not always an easy task. For the safety of your body it's important to educate yourself on how to determine jewelry quality.
Memento Mori Studios Inc. is in the top percentile of Canadian piercing studios exclusively offering the highest quality jewelry from the industries most trusted North American manufacturers.
​Your body deserves the best & we've addressed every variable that may compromise our ability to consistently provide you with a safe, comfortable, educated & professional piercing experience.​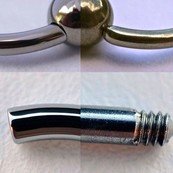 ​On the left is high quality, polished, internally threaded jewelry exclusively used by Memento Mori Studios Inc. All of our pieces are hand polished to a microscopically smooth finish & feature genuine stones including Swarovski Zirconia, Cabochon stones, Synthetic Opals & Genuine Diamonds.
Low quality jewelry is made from sub-standard materials with rough surfaces & external threading which can cause unnecessary trauma to your piercing. It's common for gems to fall out of low quality jewelry or for the material to corrode. Every piece of jewelry we offer comes with a life time warranty. Check out our
MORE ABOUT JEWELRY
page for additional information!
​
Photo Credit: Rob Hill & Ash Misako
---